Eagles One Man Wrecking Crew
 An All-American at Arkansas State University Bill Bergey set just about every defensive record ASU had. During his senior year in 1968 he averaged almost 20 tackles a game. In 1976 Arkansas fans voted him the Top Player in Arkansas State history.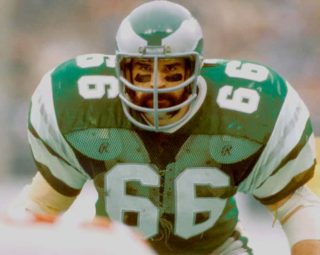 In 1969 he was drafted in the 2nd round by the expansion Cincinnati Bengals. An instant starter he was selected the NFL's Defensive Rookie of the Year by the Sorting News and remained with the Bengals until 1974. After a brief flirtation with the WFL he ended up with the Philadelphia Eagles. At Philadelphia he was the leader of transformed defense that helped the Eagles to 3 straight playoff seasons from 1978 to 1980 including an appearance in Super Bowl XV..
 Considered by many to be one of the most aggressive players in NFL History Bill Bergey was always characterized with playing at very high level of intensity – he played the game as if in mad rage someone once said. He led the Eagles in tackles 6 of the 7 seasons he was there and was credited with an incredible 233 tackles in 1976. Along with the afore mentioned Defensive Rookie of the Year in 1969 as a Bengal he made the Pro Bowl 4 times as an Eagle and was twice All Pro. Pro Football Reference has listed him on their 1970s All Decade Team. As of 2021 he is not in the Pro Football Hall of Fame.
 His on-field feud with Cardinal Offensive Guard Conrad Dobler is ranked #9 among the NFL's All Time Feuds.
Image Gallery of Bill Bergey, Line Backer 1969-1980
Trading Cards I Have of Bill Bergey